Hello Members and Friends of the Lincoln Theatre
A donation basket for
Kummar and Puja Sharma
, owners of
Taste of India
and long-time supporters of the Lincoln Theatre, was organized and set up by Lincoln members
Delinda Baughn
and
Ray & Margaret Horak
in the lobby this past weekend. The Sharmas lost their business in last Thursday's fire in Mount Vernon. I'm happy to say that over $1200 was raised during the run of
THE SECOND BEST EXOTIC MARIGOLD HOTEL
to help with their recovery. Donation accounts in the names of all of the businesses affected by the fire are being set up at a local financial institution. I'll keep you posted as to when that happens.
Noah Baumbach's latest comedy, WHILE WE'RE YOUNG, opens this weekend, then we'll screen WOMAN IN GOLD, THE CLOUDS OF SILS MARIA, and WELCOME TO ME in May and June, along with some special single screenings of the FULL DRAW FILM TOUR, LA CONNER PD: THE BIG ELVIS FILE, BLAZING PADDLES, THE BIG LEBOWSKI, and DESPICABLE ME 2 (free screening). Also please try to attend one of the amazing NT Live broadcasts this summer, including Ralph Fiennes in MAN AND SUPERMAN, THE AUDIENCE featuring Helen Mirren, EVERYMAN, THE BEAUX' STRATEGEM, HAMLET with Benedict Cumberbatch, and Tom Hiddleston returns in CORIOLANUS.
Work has begun to restore the operation of our Grand Curtain. Look for more onstage performance area for live productions and the ability to open and close the curtain before films. Thanks to a grant from the Skagit Community Foundation, a donation from Theater Arts Guild and our tireless volunteers this 13-years-in-the-making project is finally coming to fruition.
---
EARLY WARNING
Tickets are now on sale for world renowned guitarist ALBERT LEE'S return to the Lincoln on July 10th. ALBERT LEE sold out his last performance at the Lincoln and this year's concert includes Grammy Award Winning slide guitarist CINDY CASHDOLLAR.

Tickets are now on sale for musician, speaker and visionary JOHN TWO-HAWKS' performance on July 18th.
BREWFEST returns on August 8th of this year on the new Skagit Riverwalk Park.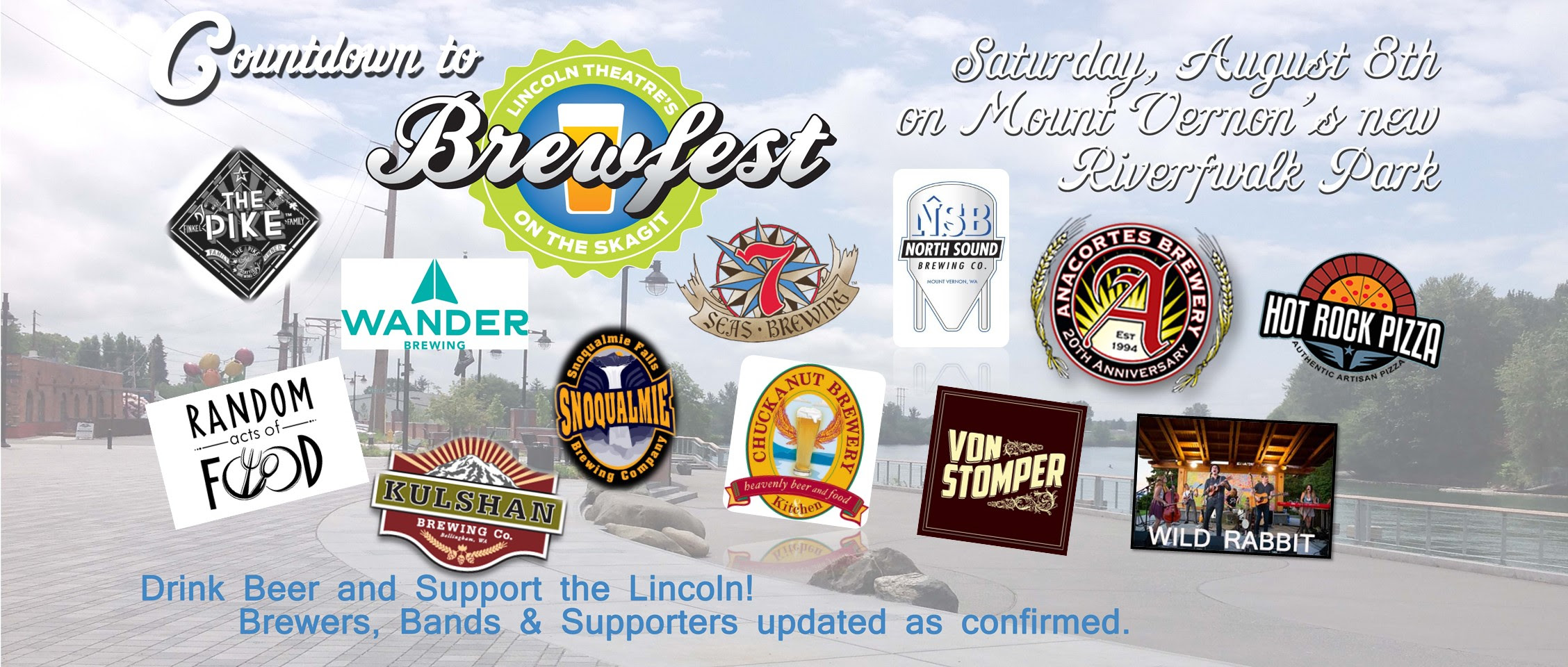 and LOUDEN WAINWRIGHT III is confirmed for April 2nd 2016. Tickets on sale this fall.
---
THIS WEEK'S COMING ATTRACTIONS:


Wednesday, May 27th through Thursday, June 3rd
---

Beginning
Friday, May 29th
and continuing through
Monday, June 1st
we are screening Noah Baumbach's new comedy
WHILE WE'RE YOUNG
.
Ben Stiller
and
Naomi Watts
star as Josh and Cornelia, a childless New York married couple in their mid-forties. As their other friends all start having children, the couple gravitates toward a young hipster couple named Jamie and Darby. He's an aspiring documentary filmmaker, a vocation Josh already has. Soon the older couple begins enjoying the energy they feel hanging out with the younger generation, but eventually Josh begins to suspect his new best friend might not be as straightforward and trustworthy as he thought. "Poignant and piercingly honest,
WHILE WE'RE YOUNG
finds writer-director
Noah Baumbach
delivering some of his funniest lines through some of his most relatable characters."-Rotten Tomatoes.
WHILE WE'RE YOUNG
is directed by
Noah Baumbach
and stars
Ben Stiller, Naomi Watts, Adam Driver
and
Amanda Seyfried
. It's rated R, runs for 97 minutes and screens on:
Friday, May 29th at 7:30pm




Saturday, May 30th at 7:30pm




Sunday, May 31st at 6:30pm

(Note: Later than usual

Sunday

start time)


Monday, June 1st at 7:30pm
---
---

On
Sunday, May 31st at 2:00pm
, Academy Award nominee
Ralph Fiennes
(
The English Patient, Schindler's List; Oedipus
at the
National Theatre
) plays Jack Tanner in this exhilarating reinvention of Shaw's witty, provocative classic,
MAN AND SUPERMAN
. A romantic comedy, an epic fairytale, a fiery philosophical debate,
MAN AND SUPERMAN
asks fundamental questions about how we live. Jack Tanner, celebrated radical thinker and rich bachelor, seems an unlikely choice as guardian to the alluring heiress, Ann. But she takes it in her assured stride and, despite the love of a poet, she decides to marry and tame this dazzling revolutionary. Tanner, appalled by the whiff of domesticity, is tipped off by his chauffeur and flees to Spain, where he is captured by bandits and meets The Devil. An extraordinary dream-debate, heaven versus hell, ensues. Following in hot pursuit, Ann is there when Tanner awakes, as fierce in her certainty as he is in his. Advance Tickets: $16 adults, $14 seniors, $12 students and children, with $2 off for Lincoln Theatre members. 10% off with purchase of 4 different plays in the NT Live Season.
---

On
Tuesday, June 2nd at 6:00pm
Lincoln Elementary
again brings its talented students downtown to present their annual
TALENT SHOW
. Students in grades one through five audition to be part of this wonderful community event, with only the best acts accepted. Lincoln Elementary is populated with many talented children, so expect a great show of dance, music, drama and more! And the now notorious teacher's performance is something not to be missed! Admission is free for this wonderful community event!
---
Coming Soon to the Lincoln:
Confirmed Films:
Non-ticketed or at-the-door events:
Advance Tickets are now available for the following events:
For tickets to these and other upcoming events click here.
---
Until next week – see you at the movies,
Roger
---
Please follow this link to print out the Lincoln Theatre's JUNE 2015 Program Guide and note that our guide is formatted as an 11″ x 17″ document. Some printers require you to select "Fit to Printable Area" for standard 8.5″ x 11″ paper.
---
Important Lincoln Theatre Contacts:Lincoln Theatre Box Office: 360.336.8955 Open

noon

to five

Monday

through

Friday

.
www.lincolntheatre.org
or
ilovethelincoln.com
to access the most up-to-date schedule information.
Lincoln Theatre Info Line: (for weekly updated phone message) 360.336.2858
Roger Gietzen, Executive Director: 360.419.7129 x100 roger@lincolntheatre.org
Tobie Fehr, Administration Assistant/Volunteer Coordinator: 360.419.7129 x101 tobie@lincolntheatre.org
Mary Mae Hardt, Development Coordinator: 360.419.7129 x103 marymae@lincolntheatre.org
Pirjo Pasanen, Lead House Manager: pirjo@lincolntheatre.org
---
Celebrating Arts & Entertainment for Skagit Valley and beyond since 1926!
---
Regular Film Admission Prices*:
General: $10.00
Seniors, Students and Active Military: $9.00
Members: $8.00
Children 12 and under: $7.00
Sunday Bargain Prices:
General: $8.00
Members: $6.00
Children 12 and under: $5.00
Add $2.00 to above prices for 3D screenings.
Your membership with the Lincoln Theatre saves you $2.00 per film ticket.
*All prices include a $1.50 Preservation Fee that goes directly into our capital account for preservation of the Lincoln Theatre and its programs. Film tickets are only available at the door beginning 45 minutes before the first screening of the day. This saves you, the ticket buyer, the fees associated with purchasing online. Never fear, there are plenty of seats!
Monday film screenings are part of the Lincoln Theatre Member Mondays with extra member benefits.
---
The 1926 Historic Lincoln Theatre is a 501(c)(3) non-profit organization operated by the Lincoln Theatre Center Foundation, owned by the City of Mount Vernon, and placed on the National Register of Historic Places in 1989.
---
Lincoln Theatre
712 South First St, Mount Vernon, WA
Ticket inquiries please contact our box office at: 360-336-8955