By Shelby Rowe | Posted: Tuesday, May 12, 2015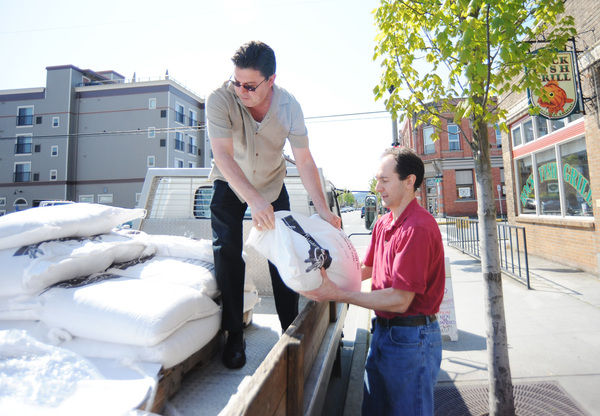 Local malting company creates flavors unique to Skagit County grain
Anacortes Brewery co-owner Rick Star (left) and Skagit Valley Malting operations manager Will DeRemer unload 2,000 pounds of alba malt on Friday, May 8, in Anacortes. Star said the brewery plans to use the unique variety of malt to create an imperial pilsner, called Regal Lager, to be released Aug. 15. The malt, which is not a traditional malting barley, was developed at Oregon State University, grown in Skagit County and malted by Skagit Valley Malting. Brandy Shreve / Skagit Valley Herald
Of the 21,000 varieties of barley, most breweries and distilleries use about 10.
But Skagit Valley Malting Co. in Burlington plans to use 24 varieties of wheat and barley to make malt for use by brewers, distillers and bakers.
And it plans to get the wheat and barley from Skagit County farmers.
Skagit Valley Malting is working with Westland Distillery in Seattle to create a peat-smoked malt for whiskey. It will be the first malting company in the United States to do so.
Westland Distillery currently buys its malt, which has a grassy, campfire smell, in Scotland, said master distiller Matt Hofmann. The malt it will soon buy from Skagit Valley Malting smells of rosemary, lavender and citrus, which will create a flavor profile unique to the area, Hofmann said.
Westland Distillery aims to have the new flavor available for tasting at its annual Peat Week celebration in October, and to release the new single-malt whiskey in 2017 or 2018.
"There's always this step between the farmer and us, and that's the malter," Hofmann said. "There's never a direct connection, and we wanted to establish one. Now when we release (new whiskeys), we'll be able to pin down what location the barley is from and which farmer grew it. That was a big thing for us."
Skagit Valley Malting is also providing a new variety of malt to a local brewer.
A 2,000-pound batch of alba malted barley was delivered Friday to Anacortes Brewing Co. It will be used to brew an imperial pilsner called Regal Lager that owner Allen Rhoades plans to release in August.
The Regal Lager will be the first beer brewed by Anacortes Brewing Co. using malt from Skagit Valley Malting.
"The beer is pretty balanced with malt and hop flavor, and we think that this malt is going to have more of a nutty but mild flavor," Rhoades said. "This malt is low protein, so we'll be able to brew it more efficiently."
Rhoades said he is working with Skagit Valley Malting founder Wayne Carpenter to get several other varieties of malt.
Skagit Valley Malting has been able to roast new varieties of wheat and barley to create the malt because of a machine it developed that malts multiple varieties of grain, Carpenter said.
The first machine was built in Carpenter's garage and could roast a 40-pound batch of malt. The newest machine can hold 20,000 pounds and can roast any variety of grain, while reducing the labor, energy and water required for the process.
The malting machines use computers and proprietary software and hardware to control the complex processes — up to 250 steps for some grains — that wash, soak, germinate, dry and roast grains.
Carpenter said he plans to assemble up to 30 machines and 24 of the 850-ton grain dryers for other malting companies.
"We've had visits from the top malters in the world," Carpenter said. "We've been told that no one in the world is doing what we're doing, and we have the right spirit."
The idea for Skagit Valley Malting began four years ago as a way to raise the value of locally grown wheat and barley, which had been essential to crop rotations but not profitable for farmers.
David Hedlin, a third-generation Skagit County farmer, has been involved with Skagit Valley Malting since its inception. The four to five varieties of wheat and barley grown on his farm could eventually be used by breweries and bakers locally and nationally.
Carpenter is already selling his company's malt to clients in Washington, Oregon, New York and California.
"We need to grow grain here, and if you can ratchet things up, then it's really positive," Hedlin said. "If half or two-thirds (of the grain) goes to malting and the rest goes to feed (for animals), then that's better for our market. It's a reinvention of grain here in the valley."
Washington State University researchers in Mount Vernon are testing about 2,000 breeds of barley and about 10,000 breeds of wheat to see if they're compatible with Washington's climate.
Though barley varieties normally have to be approved by the American Malting Barley Association for malting use, Skagit Valley Malting is exempt because its machinery allows it to handle a wider range of barley and wheat.
"That's exciting as a barley breeder, because we can give them different breeds that aren't typically malted," said Brigid Meints, a Ph.D. student working at the WSU Bread Lab.
Barley grows well in Skagit County because of the wet springs and mild winters. But rain can be problematic if there's too much moisture and the barley starts to germinate in the fields, Meints said.
The WSU research center is breeding barley and wheat for disease resistance, lodging resistance (when the barley and wheat stock begins to fall down at the end of the season), yields and for some dormancy — so the barley doesn't germinate in the field.
"We're really interested in flavor and that's what's exciting about Skagit Valley Malting because they can display the flavor of the barley," Meints said. "I'm from the Pacific Northwest and I love IPAs, but the flavor displays the hops. Skagit Valley Malting displays the grains."