Alaska USA Federal Credit Union members and Alaska USA Foundation raise $93,500 in annual food drive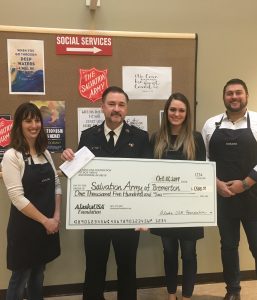 ANCHORAGE, Alaska – Alaska USA Federal Credit Union members contributed to support community food banks during its annual Cash for Cans® food drive.
The credit union and the Alaska USA Foundation teamed up for the fundraiser, collecting cash donations at Alaska USA branches during the month of September, National Hunger Month. Donations will assist 24 food banks and pantries in Alaska, Maricopa County in Arizona, the High Desert region of California, and Washington state. The donation totals for each state are as follows:
Alaska—$52,500
Arizona—$6,000
California—$10,500
Washington—$24,500
"Every year Alaska USA members support those in need, right here in the communities we serve" said Shannon Conley, senior vice president, branch administration. "Their generosity helps to feed families and children who struggle with food insecurities."
More About Alaska USA Foundation
Celebrating its fifteenth year, the Alaska USA Foundation was established to support 501(c)(3) charitable organizations that provide needs-based services to children, veterans, and active duty members of the military and their families. Since its inception, the foundation has distributed over $2 million to these organizations and is honored to assist those that provide direct services in support of its mission. Additional information about the Alaska USA Foundation and how to get involved is available at www.alaskausafoundation.org.