Lone Pinon at McIntyre Hall
Lone Pinon
Friday, November 15    7:30pm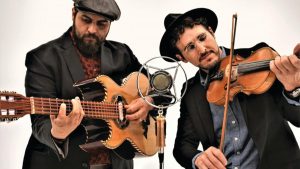 McIntyre Hall Presents 
LONE PINON
Lone Piñon is an acoustic conjunto from Northern New Mexico whose music celebrates the integrity of their region's cultural roots. Multi-instrumentalists Noah Martinez and Jordan Wax use the fiddle, bajo quinto, accordion, quinta huapanguera, mandolin, guitars, and vocals in Spanish, English, Nahuatl, and P'urepecha to play a wide spectrum of the traditional music that is at home in New Mexico.
The duo's active repertoire reflects the complexity of this musical landscape and includes early conjunto duets, contemporary New Mexican rancheras, New Mexican swing, Hispanic Texan fiddle styles, Tohono O'odham fiddle tunes from Arizona, huapangos from the Mexican Huasteca region, and several styles of music from Michoacán: son calentano and son planeco from the southern lowlands and son abajeño from the P'urepecha highlands.
This concert is made possible in part by a grant from the National Endowment for the Arts and the Washington State Arts Commission.
McIntyre Hall Box Office
10am - 2pm Tuesday - Thursday
and 3 hours prior to any ticketed event.
360.416.7727