Local Design Firms Win award for Affordable Housing Project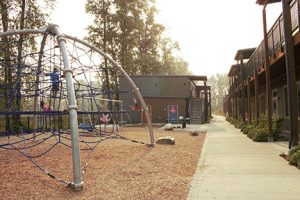 MOUNT VERNON, WASHINGTON, November 2019 — The team of De­signs
North­west/HKP Architects earned a Citation award for the Twin Lakes Landing housing project at the 2019 AIA Northwest Washington Design Awards, held at the Bellingham Cruise Terminal on October 3.  The jury, which included Chrysanthe Broikos, the curator at the National Building Museum in Washington, D.C., noted the use of modular construction and attention to environmental concerns as top reasons for acknowledging the project for design excellence.
This six build­ing cam­pus in the city of Marysville has 50 one and two bed­room apart­ments units and is the first phase of a two-phased development for Hous­ing Hope. Hous­ing Hope's mis­sion is to pro­mote and pro­vide af­ford­able hous­ing and tai­lored ser­vices to re­duce home­less­ness and poverty for res­i­dents of Sno­homish County and Ca­mano Is­land.
The site is directly adjacent to Gissberg Twin Lakes, and the units and common grounds have sweeping views of the lakes, mountains and forest surroundings. The central Community Building includes Adult Training space, a Children's Room, central laundry, Housing Hope on-site manager and staff offices as well as four residential units.  There is a community garden, playground and dog-walking areas.
"All of us who worked on this project are honored to receive this recognition for it, but the real reward is knowing that it is changing the lives of the fifty families that call it home," said Julie Blazek, Partner at HKP Architects.
Design Team:
Architectural                Designs Northwest/HKP Architects
Structural                    Lund Opsahl
Mechanical                 Harris Group
Electrical                     Interface
Civil                             Harmsen & Associates
Landscape                  MIG | SvR Design Company
Geotechnical               Geotest
Cost Estimator            Rider Levett Bucknall
Hardware                    Adams Consulting and Estimating
Modular Construction Guerdon Modular Buildings
General Contractor     Synergy Construction
This is the third award for this project; it was previously recognized by the National Association of Home Builders and the Associated Builders and Contractors of Western Washington.
HKP Architects is a full-service architectural design firm in Mount Vernon, Washington, serving public and private clients throughout Washington State since 1952. Our portfolio includes civic buildings and spaces, educational facility planning, non-profit and community-oriented projects, and private homes. All of our projects emphasize long-term value for the client through efficient use of space, appropriate use of materials, sustainability, and the benefits of natural light throughout our buildings.