Firm Partner Julie Blazek at HKP Architects earns Passive House Certification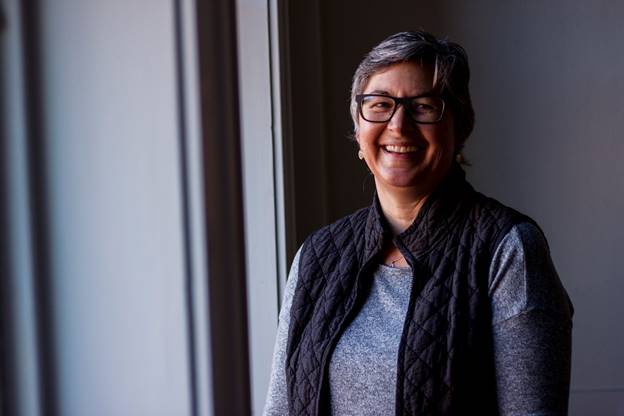 Mount Vernon, Washington / December 2019 – HKP Architects is pleased to announce that architect and firm partner Julie Blazek has recently earned her Passive House Certification.
HKP Architects introduced its own Passive House Studio in 2016 to promote and execute Passive House projects for its clients. At the time, the firm had another CPHC designer on the team who ran that studio. When he left, instead of hiring a CPHC externally, Blazek realized she could fulfill a long-time goal of hers and become certified herself.
"It had always been an interest of mine to get better educated and trained in Passive House strategies, so I decided the time was perfect to pursue certification," Blazek said. The intensive certification process began with three months of online coursework and a week-long training  seminar in Portland, Oregon, that ended with an in-class exam. Julie then had to complete and pass a challenging take-home test.
Julie's inspiration behind her decision to pursue the strenuous certification was based on her commitment to sustainable building practices and recent project opportunities. "We have several public projects that are looking at Passive House design that we can model and test right away," she said. "I'm interested in adding the design strategies to new projects, in whatever capacity is achievable, to build better buildings and reduce our energy consumption. We've also set aside a few minutes of each office meeting to explore aspects of Passive House design with the rest of the staff so they are educated and invested in incorporating it throughout our office culture."
Achieving the certification was especially rewarding in light of the breadth of technical knowledge required in order to pass. "The biggest challenge for me was the time commitment and perhaps trying to understand the mechanical engineering side of Passive House, which is not my area as an architect," Blazek said. However, "the biggest rewards have been accomplishing something new and meeting all the wonderful people in my certification class who were also pursuing this common goal."
Looking ahead, Blazek thinks that Passive House will become more common despite the current-day obstacles, such as the upfront costs of some of the added features. "The first costs for owners is still a barrier, even though the cost differential is coming down every year.  Focusing on the long-term benefits and pay-back is huge," Blazek says. "It feels as though the momentum is shifting, however, and Passive House is becoming more accepted and more widely implemented as we shoot for Net-Zero or Net-Zero Ready buildings, so I feel like we are poised for the shift in consumer demand."
In addition to environmental health, there are many practical benefits to the increased implementation of Passive House construction, such as energy savings, comfort, air quality and acoustics. Blazek says, "This is a big opportunity to significantly reduce the impact that buildings have on our environment, and there is also an economic benefit Passive House could bring to affordable multi-family and senior housing, where people have fixed incomes. Passive House construction would give them significant savings on utility costs, which could allow spending on other priorities."
ABOUT HKP
HKP Architects is a full-service architectural design firm in Mount Vernon, serving public and private clients throughout Washington State since 1952. Our portfolio includes civic buildings and spaces, educational facility planning, non-profit and community-oriented projects, and private homes. All of our projects emphasize long-term value for the client through efficient use of space, appropriate use of materials, sustainability, and the benefits of natural light throughout our buildings.