Village Concepts Country Meadow Village Donates $2,300 to Helping Hands Food Bank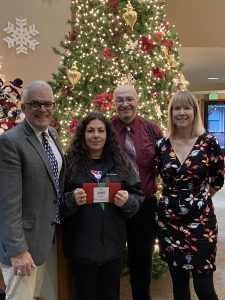 On behalf of the residents and staff of Village Concepts Country Meadow Village, executive director Sandra Jensen and program director David Bricka presented $2,300.00 to Miranda Wilson, executive assistant of the Helping Hands Food Bank and Solution Center at the local retirement community's annual Christmas Party.  Nate Vandenburg, long time food bank volunteer and Village Concepts team member was also present.
The funds were raised from the Summer BBQ, Holiday Bazaar and Buffet, and proceeds from Kathy's Kloset, a consignment shop set up by team member Kathy Richter for the residents and staff.
Village Concepts has been collecting items for the food bank for years from donations that fill a basket in the lobby.  About 500 pounds is generated annually from this site.  They donated money to the Solution Center in 2012 and 2016.
"With this donation we will be able to purchase healthy, nutritious food that will feed hundreds of people," Wilson told the crowd gathered at the festive party.  "We are so grateful for your generosity."
Over the past 10 years, Village Concepts Country Meadow Village has donated over $24,000.00 to various non-profit organizations as part of the greater philanthropy of their parent company.  Some of the groups benefiting have been the Meals on Wheels program at the Sedro-Woolley Senior Center, the Oso Community for relief from the mudslide and most recently Hospice of the Northwest.