Residential Fire on North 1st Street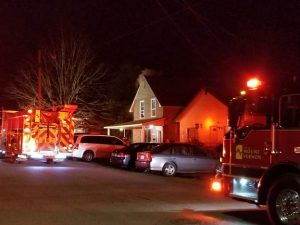 At approximately 8:58 p.m. on Christmas Eve, Skagit Dispatch received a call from a passenger traveling in a vehicle on I-5 who reported seeing smoke rising from a structure near Fir Street and Shop Lane.
Upon arriving to the area, first responders were unable to immediately locate the fire, but spread out to search and quickly discovered the source of the smoke—a burning 2-story residence on the 500 block of North 1st Street.
As crews were assessing the property, they saw an individual in a 2nd story window. Wearing masks and full equipment, firefighters entered the building to locate and safely remove the individual.
No other persons were known to be inside the residence. The one rescued individual was transported to treatment for potential inhalation injuries.
Crews quickly had the attic fire stabilized, and have remained on scene, as of 11:16 p.m., to locate additional smoldering hot-spots. A full investigation into the cause of the fire is expected to begin Wednesday morning.