Skagit Valley College selects Joe Amaral as new Volleyball Head Coach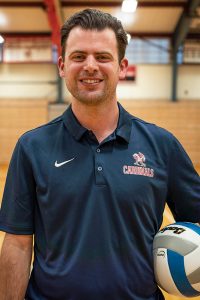 The Skagit Valley College Athletic Department has selected Joe Amaral, of Bellingham, to serve as the new Volleyball head coach of the Cardinals. He will be joined by Assistant Coaches Lauryn Halley and Kiana Calles.
"I am very excited and honored to be leading Skagit Valley's volleyball program," said coach Amaral. "I look forward to everything that lies ahead. Go Cardinals!"
Joe Amaral began his volleyball career as an accomplished player (Libero) in San Jose, California where his team (Bellarmine Prep) placed 5th in the nation. After high school, he went to Western Washington University and helped his team (as a Setter) place 5th in the nation for Division 2 colleges. He continues to be an accomplished player competing in adult open level tournaments.
Most recently, Joe served as head coach at Squalicum High School. During his tenure at Squalicum, he coached the team to a top 8 finish in the 3A State tournament in his second-year coaching (2016).
Joe Amaral has also been a successful club coach for the Skagit Island Volleyball Academy (SIVA) where he has coached a U15 team to a number 1 ranking for the Puget Sound Region and won open tournaments in the U16 division. He also coached at multiple player development camps including Seattle University, Nike Camps and Guy Enriques' Team Camp.
Skagit Valley College is a member of the Northwest Athletic Conference (NWAC), which consists of two-year colleges in Washington, Oregon, Idaho and one college in British Columbia.              #  #  #
Equity in Access, Achievement, and Community