The Stress Antidote Workshop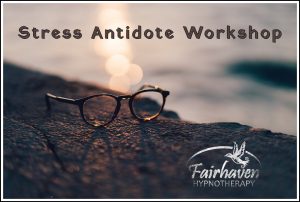 Saturday, March 21 from 9 to 1:30
301 W Kincaid St Mount Vernon, WA 98273
$49 for the workshop and Chamber members pay $44.
Get your tickets here!
Do you suffer from:
Road Rage?
Mind racing and you can't sleep?
Behaviors that just won't stop?
Low energy with little to no motivation?
Toxic patterns that keep repeating?
You are not alone.  Nearly everyone has stress in their lives. Stress can be very complex and affect everyone differently.  Since so many people suffer from it, wouldn't it be great if there was an answer, or maybe an antidote for stress?  A plan of attack, a basic guide or something easy to learn and use to help deal with it?
What if there was a way for all of us to recognize, accept and learn how to reduce, reform or even eliminate stress completely?
Well I have some good news and the bad news:
The good news is that the antidote is simple.  It all boils down to how you think.. A slight shift in perspective can produce profound results.  Since our thoughts create our current reality, when you tweak those thoughts that don't serve you, you tweak your life.  Perspective is EVERYTHING.
Einstein said it best, "you cannot solve your problems with the thinking that created them".
The bad news is that the antidote is simple. It may not be what you expect and its power is exponentially underestimated and blatantly misunderstood as difficult.  Simple solutions have been often overlooked or scoffed at and this is no different.
What is it you may ask?
In-sight.  The antidote for stress is in-sight.
I have witnessed its incredible power in my day to day conversations.  People's lives have transformed right before my eyes through the power of in-sight, whether in hypnosis or not.
This workshop will give you the opportunity to explore how you think about stress by:
Discussing the three categories of stress and discover how each one contributes to your personal stress profile.
Providing moments for reflection and  thought reframing using concepts simplistic in nature geared towards creating a catalyst for superior personal growth.
Learning stress relieving activities using techniques from neuroscience that will retrain your brain, recharging you in minutes not hours or days.
Experience hypnosis and it's profound ability to offer the ultimate safe space to receive the in-sight desired.
Laugh, for it is the best stress relief.  In-sight can be fun.
Review:
"Jax, I really enjoyed your workshop last night! Thank you so much for sharing your insights, and expertise.  It was very thought provoking and healing.
It helped steer me toward coping/ grounding options I have not tried before.
I appreciate so much you taking the time to share your experiences, expertise, and wisdom.
Your enthusiasm is contagious, and helped move me in the right direction.  I have not stopped smiling all day.
Again, great job and Thank you!" - Elizabeth S. Mount Vernon.