Barron Heating donates ductless heating system to Sedro-Woolley cancer patient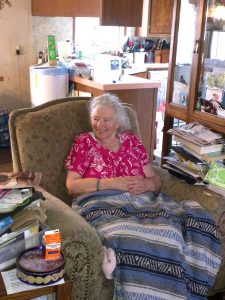 Three Northwest Washington families going through difficult situations, including a Sedro-Woolley great-grandmother living alone in an inadequately heated home while battling cancer, recently received free heating systems at their homes from Barron Heating & Air Conditioning.
Phyllis Queen has been battling cancer since 2017. Chemotherapy has caused neuropathy in her extremities, causing consistent pain that is unbearable in the cold. Living on a fixed income, she's unable to afford the skyrocketing power bill due to her 30-year-old furnace, and her pellet stove does not supply her entire home with adequate heat. She often sleeps on the sofa because it's too cold in her bedroom.
Taking some of the worry out of her life, Barron Heating installed a Daikin ductless mini split system, ensuring Queen would stay warm and comfortable throughout her home.
"Barron Heating is honored and grateful to be a part of this community and to have served people for more than 45 years," said John Barron, owner of Barron Heating. "We couldn't think of a better way to say thank you than by giving back through our Barron Heating Furnace Fund."
Barron Heating also donated a Daikin ductless mini split system, providing heating and cooling, to a Stanwood grandmother raising six of her grandchildren after her husband passed away from cancer and a new Carrier furnace to a Sumas cancer patient and mother of six children. The value of Barron Heating's donated equipment with installation in the past year is estimated at more than $25,000. Barron Heating will be seeking more recommendations later this year for families in need.
Committed to improving lives through its Air Solutions team and Certified Home Performance Experts, Barron Heating provides a wide range of heating, cooling, solar, electrical, plumbing and indoor air quality products and services, as well as a large selection of stoves, fireplaces and hot tubs in its Firelight by Barron showrooms.
Barron Heating has become one of Northwest Washington's largest and most respected home performance experts with locations in Burlington, Ferndale and Marysville. Approximately 150 employees serve customers in Skagit, Whatcom, Island, San Juan and Snohomish counties. Its Burlington location is at 560 S. Burlington Blvd., just north of Highway 20. For information, call (360) 424-4962 or visit www.barronheating.com.