Rotary Clubs Collaborative Grant Distribution to Food Banks & Boys & Girls Clubs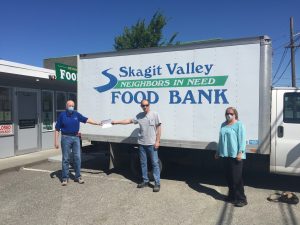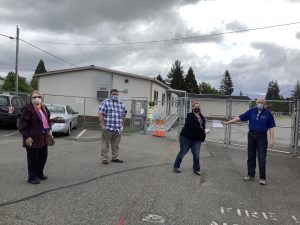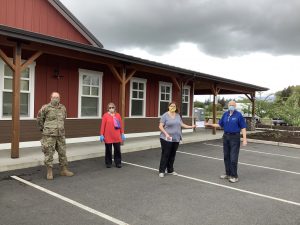 This past week Rotary District 5050 Area I Assistant Governor, Darrell Hooper and Assistant Governor Elect Becky Elde, delivered much needed funds to four non-profits in Skagit County.  Checks were delivered to Helping Hands Food Bank, Boys & Girls Club of Skagit County, Tri-Parish Food Bank, and Skagit Neighbors In Need.  These organizations are on the frontlines of meeting the needs of essential workers and food insecure families in their community.
Darrell and Becky represent - Burlington Mid-Day Rotary, Rotary Club of Burlington, Mount Vernon Rotary, Sedro-Woolley Rotary, and Skagit Rotary. Each of the five Clubs put up a $1000.00 to reach the maximum matching $5000.00 grant made available by Rotary District 5050 for addressing the impact of COVID-19 to reach a total of $10,000.00.  The Presidents of the five Rotary Clubs, Joe Lindquist, Stephanie Hooper, Mike Janicki, Holly Peterson, Kelly Reep, and John Voth met several times with the Assistant Governors to discuss the greatest need in their community and without a doubt the long lines at the food banks made this an easy decision, along with helping offset the cost of Infrared Thermometers needed at the Boys & Girls Club of Skagit County.
Rotarians are described as people of action and although they have to remain appropriately distant for now, staying connected with the needs of our community is a priority.
Submitted by AGs Darrell Hooper and Becky Elde Presidents - Joe Lindquist, Stephanie Hooper, Mike Janicki, Holly Peterson, Kelly Reep, and John Voth