Season 2020 of the Mount Vernon Farmers' Market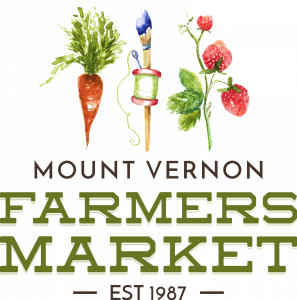 NEW SEASON
It goes without saying that future is always uncertain, yet we all have some expectations for the forthcoming days, weeks and months. Usually the predictions are not too far off from the reality, but 2020 has most certainly been very different from what any of us could have imagined. Routines have been turned upside down, many plans have been canceled and we have all been forced to adjust our expectations.
Amidst this turmoil, we are very grateful that Mount Vernon Farmers' Market has been given the permission to start the season of 2020 on Saturday, 16th May as planned many months ago, but with appropriate modifications in our operations.
What remains same is that we still accept EBT and we will have our SNAP Market Match Program available for people to double their EBT money.
NEW RULES
To begin with, it will be a 'farmers only' market which means that there will be fresh produce, flowers and farm-raised meat. We hope to make art and crafts available as the season progresses.
At any given time, 25 individuals will be allowed to the market. The entrance is on Gate Street and the exit — off Myrtle Street.
We kindly ask one member from each household to come and do the shopping and wear a mask if possible. Only service animals are allowed.
Customers cannot touch the produce and reusable bags are not allowed.
The vendor tents will be spaced at least 6 feet apart (10 feet wherever possible).
There will be handwashing stations for the customers, but no public restrooms.
SAME HOURS
We hope to keep the market running every Saturday from 9am to 2pm.
Come and shop at Riverwalk Park to get fresh produce and support local agriculture!