Bartenders, Barbers, and Stylists to receive free oil changes offered by Gateway Automotive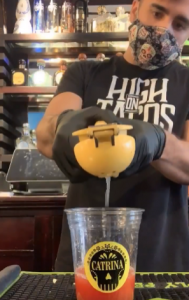 Bill Orsborn calls them the "forgotten ones;" bartenders and hairdressers who have been severely impacted by a loss of income due to COVID 19.
That's why he's offering a free oil change to anyone in those professions at any Gateway Automotive location in Skagit and Island Counties.
Beginning in March, Orsborn promoted free oil changes to First Responders. The program is still very popular.  But Orsborn felt he could do more. "We keep racking our brains for new ways to support our community."
This month Orsborn expands his free oil change offer to include bartenders, barbers, and stylists, many of whom are waiting to return to work after nearly three months of sheltering in place.
"Much of their income comes from tips. How will they pay their bills?" Questioned Orsborn.
Kristian Valdez, a bartender at La Catrina Tacos and Tequila, feels lucky to be working. "After five years, I still love this job. But now it takes me a week to make what I used to earn in one day."
Valdez was attending Skagit Valley College and self-funding his education to become an EMT. Now he may need to put his dream career on hold. "I don't have the money to cover tuition," Valdez explained. "That's why I'm grateful for a free oil change. It's a relief."
La Catrina's Facebook page showcases its creativity in serving its customers, including a recent TikTok video of Valdez mixing a specialty to-go drink donning facemask and gloves.
"It inspires me to see how local businesses and employees are pulling out the stops to serve their customers." Orsborn shared. "We hope a free oil change helps in some small way."
ABOUT GATEWAY AUTOMOTIVE
Gateway Automotive Family of Companies has been in business since 1999. The company strives to provide a transmission service facility that is convenient, professional, and ethical for all its customers at all three of Western Washington locations. More information can be found at www.gatewaytranny.com.