Drive-Thru Hiring Events Revolutionize Hiring During Pandemic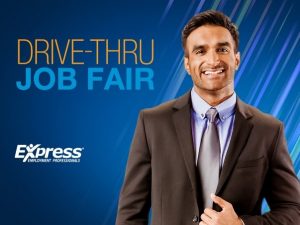 Apply Without Leaving Your Car
________________
Mount Vernon, WA – As states loosen closure orders for businesses, companies are looking to replenish their workforce while facing the dilemma of how to safely interview candidates. As hiring experts, several Express Employment Professionals offices are stepping in to help with Drive-Thru Job Fairs.
Instead of requiring job seekers to physically come into offices to apply for positions, candidates line up in their vehicles to fill out paperwork.
Mount Vernon Express Employment Professionals will host a Drive-Thru Job Fair from 11am – 4pm time on Wednesday June 17th month date, said Mark Hagen, Express franchisee.
"We invite everyone in the community to stop by and safely fill out an application," said Hagen. "Local companies are open and looking for workers, and we are ready to get the community back to work."
The Mount Vernon Express Employment Professionals franchise began operation in 1996 and serves the Skagit and Island County areas with temporary help and direct hire employees in a variety of fields, including Industrial/Commercial, Administraive, Account/Finance, and more. The Mount Vernon office, located at 1806 Riverside Drive, Suite D, Mount Vernon, is currently accepting applications.
***
If you would like to arrange for an interview, call 360-336-1980