A Virtual Rosy Day "In" Presented by Christianson's Nursery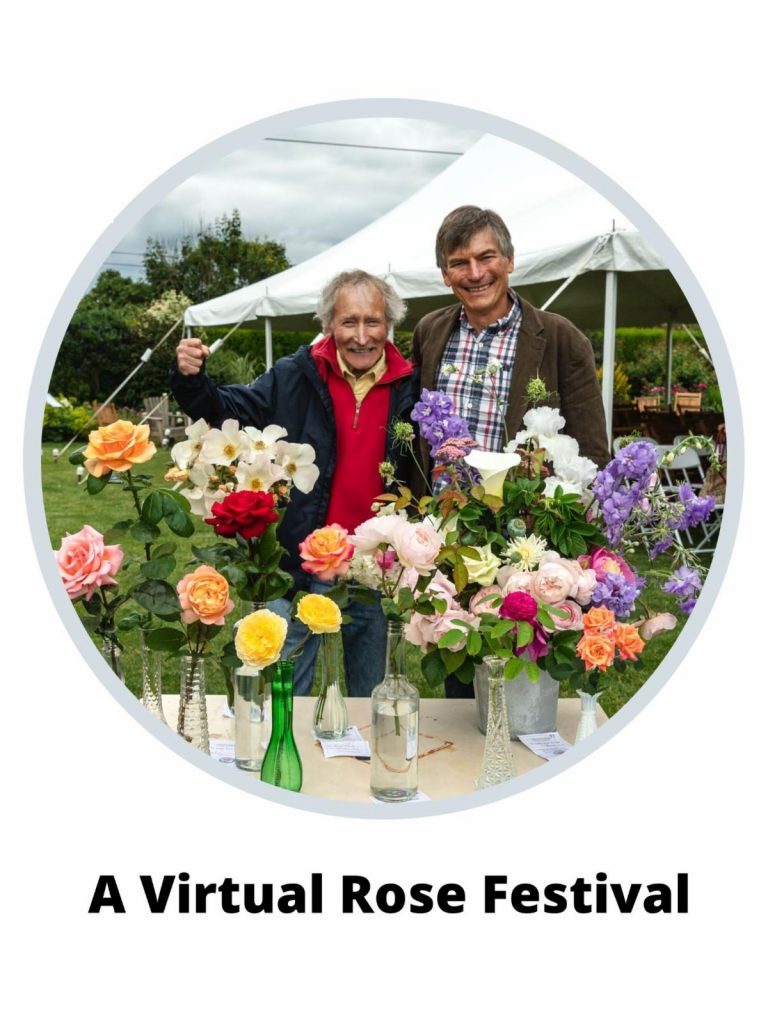 We have waited until now to see if there was a possibility to host an in-person or hybrid form of the Christianson's Rose Festival, but Governor Inslee's Phase 2 doesn't allow it to be held in its traditional form. And, although that is disappointing, we do have a workaround.
This year's Rose Festival will instead bloom into a virtual experience on Instagram! We will be using Instagram for the main stage to bring you closer to the people you want to learn from and the rose information and highlights you want to learn more about.
Your Interaction Could Win A Rose!
Ask your questions, share what inspires you, or tell us why you grow roses! Beginning on Thursday, June 18, once a day, we will be giving away one shrub rose (pre-selected by John Christianson) to the person who has the most engaging interaction with each speaker! Winners will be announced at the end of each presentation.
A Virtual Schedule of Rosy Events
Thursday, June 18, All day, 6 a.m. - 7 p.m.
An All-Day Instagram Takeover featuring David Austin Roses North America Sales Executive, Rebecca Koraytem
Rebecca will be taking complete control over the Christianson's Instagram page posting inspiring images throughout the day to get you prepared to take your rose gardening to the next level. We encourage you to ask her questions and comment as the day progresses. Rebecca is a wealth of knowledge! No question is too big or too small for her. She will really be on the other end receiving and answering all of your questions in real time!
Friday, June 19, All day, 6 a.m. - 7 p.m.
An All-Day Instagram Takeover featuring Floral Designer and Owner of
Casablanca Floral, Maura Whalen
On Friday, Maura will be taking complete control of the Christianson's Instagram page! She will be posting floral design techniques and trade secrets distilled into easy to follow steps throughout the day resulting in a completed rose arrangement. Recently, Maura was featured in the Seattle Times for her personal rose garden and was the award-winning collaborative floral designer with Fleur de Villes at this year's Northwest Flower and Garden Festival. She, too, will be on the other side of the posts throughout the day ready to engage with you!
Saturday, June 20, 11:00 a.m.
Instagram LIVE! with John Christianson and a
special appearance by Ciscoe Morris
John hits the Instagram stage LIVE! for Christianson's Virtual Rose Festival on Saturday with vibrant rosy energy to present (as if in person) his favorite rose companions along with an always fun visit from Seattle's beloved gardener, Ciscoe Morris. Get your questions ready ahead of time and plan to tune in for a virtual Rosy Day In!
Watch John LIVE! on Instagram
1.) Create/tap open your Instagram and follow us @ChristiansonsNursery

2.) You will receive a notification when we go live from our Story Profile

3.) Tap on (double circle pictured left) LIVE! Christianson's Stories to start viewing
And, for those who can't join us LIVE! or if you only use Facebook, don't worry. We will be sharing each Instagram Takeover post on Facebook Stories and John's recorded presentation on IGTV and Facebook Watch afterward so you don't miss a thing!
Paeonia Itoh 'Watermelon Wine'
Nothing makes people smile like a bouquet of peonies. Their large puffy blooms are dramatic showstoppers that make a beautiful addition to any bouquet or garden. Although pink is what may come to mind when referring to these May and early June-blooming perennials, peonies come in other gorgeous colors including white, red, magenta, and orange. Peonies are also an excellent border choice for mixing with other perennials and will maintain their neat shrub-like form through summer in the Pacific Northwest. And, once established with proper growing conditions, they prove themselves hardy and easy to grow.

Peonies come in three main types: Herbaceous, tree, and the new Itoh. Herbaceous peonies (Paeonia lactiflora) are the most common with many varieties to choose from. Herbaceous peonies, or peonies that grow from the plant's crown, reach approximately 2 to 3-feet tall and have scented flowers that are available in shades of pink, red, and white that bloom atop flexible light green stems. After a frost, the fresh growth dies back to the ground, similar to most other perennial plants.
From Toni and John Christianson's Home Garden, Paeonia 'Duchesse de Nemours'
Saturday and Sunday, June 21 - 22

Tomato Plants in 4-inch Pots

40% off!

There's something about growing tomatoes that grab a Dad's attention. Maybe it's the time spent in the garden? Maybe it's the accomplishment of growing a vine-ripened edible fruit? Or, is it the satisfaction of picking that first tomato and smelling its glorious acidic fragrance? Whatever the reason, you can count on Christianson's Nursery for a wide selection of tomato plant varieties for your Dad, along with expert plant advice for raising a bountiful edible garden.
Midsummer Antique Fair Dates

Have Changed!
Although the coronavirus has reshaped many events for all of us this summer, Christianson's Nursery continues to remain hopeful in moving forward with our plans for this year's 7th Annual Midsummer Antique Fair and Vintage Market!

 

Friday and Saturday, July 24-25, 2020

Friday, July 24, VIP Early Shopping

5:00 p.m. – 8:00 p.m., $13 per person

(Must be 21 or older to attend)

A percentage of V.I.P. profits will benefit the Skagit Symphony

Saturday, July 25

9 a.m. – 4 p.m.  Free admission

We have many of last year's original spaces available in the Schoolhouse Rose Garden along with a few new spaces at the North Meadow Field.

Be a Vendor! Vendor applications are available and being accepted now on a first-some-first-serve basis. Download a map to choose your space today!

We welcome non-profits! Share this news with your community group or favorite charity for a fun way to fundraise.

Contact us to reserve your space!
June 1 – 14
Vines
clematis, honeysuckle, jasmine,
wisteria, akebia, and more
1 to 5-gallon
20% off
June 15 - 28
Perennials
our best selection of perennials
4-inch quarts and 1-gallon pots
20% off
June 21 - 22
Father's Day Special
tomato plants in 4-inch pots
40% off
June 29 - July 5
'Lemon Sale'
ugly plants with beautiful futures
Nursery seconds at greatly reduced prices
50% off
Return Mason Bee Kits;

Rent Leafcutter Bees!
Now through June 17, RentMasonBees.com's drop off tub is ready to collect your rented Mason bee kits from early spring. Located just outside the Garden Store, simply place your returned kits inside the tub and RentMasonBees.com will collect them on June 17.

Leafcutter bee kits are now available (through mail only)! Visit RentMasonBees.com to arrange Leafcutter bees to be delivered to your home for your summer pollination needs.
Curbside Pick-Up Service Continues
For those who have specific plant lists or gift ideas and would prefer not to shop in person, we continue to offer curbside pick-up service. To learn more about it visit ChristiansonsNursery.com. Curbside orders require 48 hours turnaround.

Please note: Christianson's Nursery is an essential business and is not a place to gather socially. We practice social distancing even while wear masks and appreciate it when our customers do the same.
An Essential Business,
Christianson's Nursery is Open Daily
9:00 a.m. - 6:00 p.m.
Christianson's Nursery | 360-466-3821 | 15806 Best Road Mount Vernon, WA 98273
www.ChristiansonsNursery.com
‌
‌