What's Your Avocado? Marketing & PR Develops New Website for Web-Based Record-Keeping Platform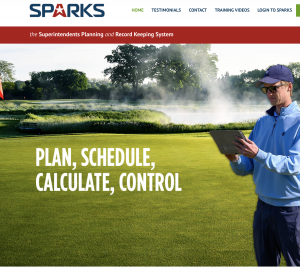 What's Your Avocado? Marketing & Public Relations recently launched a new website for an innovative web-based planning and record-keeping platform at Sparks2.com. SPaRKS, the Superintendents Planning and Record Keeping System, is used nationwide by golf course superintendents and sports field managers to track fertilizer inputs and other complex maintenance practices.
"The redesign of our SPaRKS website was the fourth project that I've done with Stacie and her team at What's Your Avocado? Marketing & Public Relations.  That tells you something right there. Stacie understands our industry, which means we don't have to spend a lot of unproductive time educating her about our business. She has a knack for helping her clients communicate their message in a clear and concise way. This is especially important in business today. When customers are continually bombarded with information, you need to be able to grab their attention quickly. Our old website had too much information, and not the 'right' information.  Stacie and her team created a visually appealing website that provides a clear, succinct, and informative message,"  said Mike Plague, partner, Sydney Solutions, the company behind SPaRKS based in Farmington Hills, Michigan.
For more information about website development call What's Your Avocado? Marketing & Public Relations at (360) 428-2878 or visit whatsyouravocado.com.