Skagit Valley Giant Pumpkin Weigh-Off (only) at Christianson's Nursery
Christianson's Nursery
15806 Best Road / Mount Vernon, WA 98273
Stephanie Banaszak, Marketing, Public Relations, and Events Manager
Stephanie.Christiansons@gmail.com
Ph 360-466-3821
Email and Direct Mail Subscribers: 14,000
Social subscribers: 14,000
Reservations and fees are required for most classes. We are limiting class size during the mandate as well.  Learn more about our classes, workshops, traditions, and services at www.ChristiansonsNursery.com.
For curbside pick-up and plant requests, email our staff at Staff.Christiansons@gmail.com, or visit the Nursery using masks even while practicing social distancing or call 360-466-3821 or 800-585-8200.
To inquire about photography sites, weddings & special occasions, and all media inquiries, or to be placed on our mailing list, email Stephanie.Christiansons@gmail.com.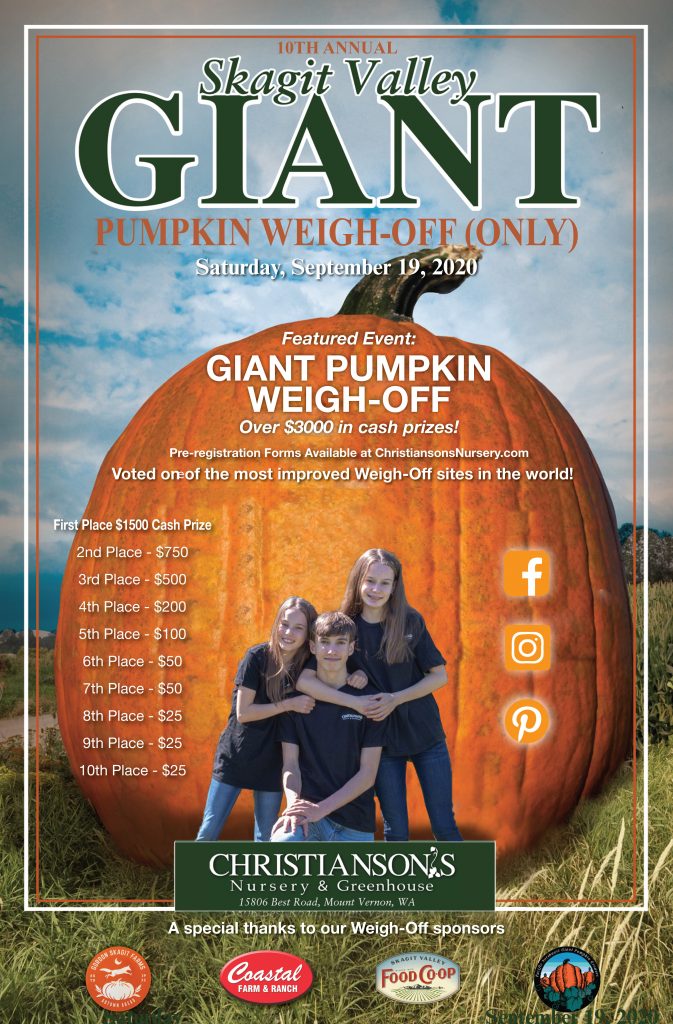 Custom Containers Saturday, September 19, 2020.  Christianson's Nursery, 15806 Best Road, Mount Vernon. Sorry folks!  As the extenuating circumstances of the coronavirus continue its reach, the Skagit Valley Giant Festival is canceled.  This year, we will hold our Weigh-Off portion (only) outside the Vinery by taking pre-registered grower information that will determine scheduled Weigh-Off time slots.  $1500 CASH PRIZE FOR THE BIGGEST PUMPKIN!  Submit pumpkins, squash, super-size garden vegetables (zucchini, watermelons, tomatoes, gourds), and flowers (sunflowers)!  At the end of the Weigh-Off, we will hand out prize money and mail prize ribbons home.  Please include your best mailing address when registering.  All entrants must wear a mask (out of the vehicle) and supply their own slim crew.  We will supply the equipment and scale.  Christianson's Nursery is an official weigh-off site for the Giant Pumpkin Commonwealth (GPC), an international organization sanctioned to submit giant pumpkin world records!  Download a form to compete at https://www.christiansonsnursery.com/events/2019-skagit-valley-giant-pumpkin-festival/
For more information, visit the Nursery or contact us at the Garden Store 360-466-3821.