Barron Heating donates furnace, seeking nominations of families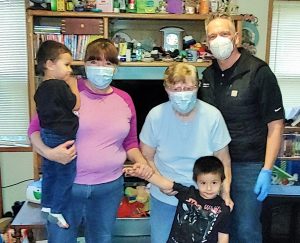 Barron Heating AC Electrical & Plumbing is seeking recommendations through its Furnace Fund for families in need in Skagit, Whatcom, Island, San Juan and Snohomish counties.
Two families will be selected to receive a new furnace this winter. Family recommendations may be made through Nov. 30 at www.barronheating.com/furnacefund/ or a Barron showroom in Burlington or Ferndale.
"Barron Heating is honored and grateful to be a part of this community and to have served it for nearly 50 years," owner John Barron said. "This holiday season we couldn't think of a better way to say 'thank you' than by giving back through our Barron Furnace Fund."
Barron's annual Furnace Fund is preceded by the Barron Christmas in July giving event. After being named one of this year's Christmas in July recipients, a Mount Vernon family is now set for winter.
Norma Everett selflessly opened her home to her widowed daughter and her two grandchildren. On top of tight finances and a small living space, Everett's oil furnace stopped working last winter, forcing them to make do with space heaters.
"Servicing her furnace and installing a new single-head ductless system will mean they are warm and safe this winter, a gift our Barron team is blessed to be able to share," Barron said.
Committed to improving lives through its Air Solutions team and Certified Home Performance Experts, Barron provides a wide range of heating, cooling, solar, electrical, plumbing and indoor air quality products and services, as well as a large selection of stoves, fireplaces and hot tubs in its Firelight by Barron showrooms.
Barron has become one of Northwest Washington's largest and most respected home performance experts with locations in Burlington, Ferndale and Marysville. Approximately 150 employees serve customers in Skagit, Whatcom Island, San Juan and Snohomish counties.
Barron's Burlington location is at 560 S. Burlington Blvd. Hours are 9:30 a.m. to 5 p.m. Monday through Friday and 10 a.m. to 4 p.m. Saturdays. For more information, call (360) 676-1131 or visit www.barronheating.com.