Pinecone, Inc. announces arrival of new Showroom Coordinator, Viktoria Hollosi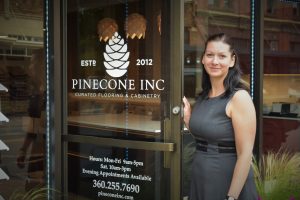 Pinecone, Inc., a Mount Vernon-based kitchen and interior finishes firm, announces the arrival of Viktoria Hollosi as its Showroom Coordinator. Bringing with her nearly a decade of professional experience, primarily within the hospitality industry, she has a keen understanding of customer service, presentation, and attention to detail. In the capacity of Showroom Coordinator, Viktoria's primary responsibilities are to set and fulfill appointments, coordinate project schedule for both clients and subcontractors, build and sustain customer relationships, and greet all visitors to the Pinecone showroom.
"We are so happy to have Viki on our team," added Rich Callison, co-founder and principal artisan of Pinecone, Inc. "She has already proven to be an incredible asset, elevating what we're able to offer our clients through her organizational skills, great business mind, and positive energy."
Viktoria obtained her BSc in Commerce and Marketing from Szechenyi Istvan University in Gyor, Hungary.
In her free time, you can often find Viktoria riding her bike; spending quality time with her son, Beni; reading a good book; or recording videos for her own YouTube Channel.
Located on 1st Street in downtown Mount Vernon, Pinecone Inc.'s 1,100 sq. ft. showroom takes customers on a design journey. The beautifully crafted space highlights their wide ranging vendor partners with flooring, cabinetry, stairs, and countertop samples throughout. Vendor partners include but are not limited to Bauformat and Crystal (cabinetry); Woodpecker, Urban Floors, FORBO, and Amorim (flooring); Cosentino and Caesarstone (countertops); and House of Forgings (stairs).
The showroom is currently open to the public yet continues to practice proper social distancing measures and adhering to COVID-19 restrictions. Masks are required for any unvaccinated visitors who enter the showroom.
For more information or to schedule a complimentary design consultation, please contact us at 360-255-7690 or visit us on the web at www.pineconeinc.com or in person at our showroom located at 721 S. 1st Street in Mount Vernon.
# # #
About Pinecone Inc.  
Offering custom kitchen and interior finishing solutions, Pinecone Inc. was established in 2012. The company opened its 1,100 square foot showroom in downtown Mount Vernon, Washington in October 2020. Pinecone Inc. offers clients an innovative design approach that blends skilled artistry with Earth friendly, low impact solutions. The design firm maintains world-class vendor relationships with renowned companies, including Bauformat and Woodpecker. For more information, visit Pinecone Inc. online at www.pineconeinc.com or call 360-255-7690.