Barron Heating AC Electrical & Plumbing seeks family recommendations for heat pumps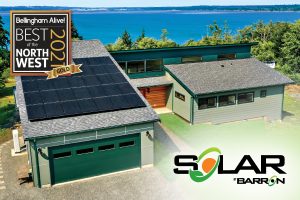 Do you know a Northwest Washington family in need that is quite uncomfortable during summer heat waves and winter cold snaps?
Barron Heating AC Electrical & Plumbing's annual Christmas in July giving event is centered around giving and compassion for others, according to owner John Barron. The company is seeking recommendations through July 31 for families in need in Whatcom, Skagit, Island, San Juan and Snohomish counties. Two families will be selected to receive a single-zone Daikin Ductless Heat Pump installed at their home.
Also, $100 will be donated to a "furnace fund" from the sale of each Daikin comfort system purchased between now and Aug. 31, making it possible for more families to be given a new furnace later this year.
The value of the heat pumps and furnaces with installation is estimated at more than $25,000.
"We know there are good families in our communities who are facing difficult challenges," said John Barron, owner of Barron Heating AC Electrical & Plumbing. "A ductless heat pump delivers energy efficient heating and cooling, providing year-round comfort to a family that otherwise may not have heat this winter."
Also, the ductless heat pumps will dramatically cut energy costs for the families receiving them, Barron said.
Family recommendations may be made by July 31 at www.barronheating.com/christmasinjuly/ or in person at either of the Barron showroom locations.
Committed to improving lives through its Air Solutions team and Certified Home Performance Experts, Barron provides a wide range of heating, cooling, solar, electrical, plumbing and indoor air quality products and services, as well as a large selection of stoves and fireplaces in its Firelight by Barron showrooms.
Barron Heating AC Electrical & Plumbing has become one of Northwest Washington's largest and most respected home performance experts with showroom locations in Burlington and Ferndale and an office location in Marysville. Approximately 160 employees serve customers in Whatcom, Skagit, Island, San Juan and Snohomish counties.
The Burlington showroom is at 560 S. Burlington Blvd., just north of Rio Vista Avenue. For more information, call (360) 424-4962  or visit www.barronheating.com.