Competitors completing the 26.2 mile race as part of "Team Korey" included Skagit County residents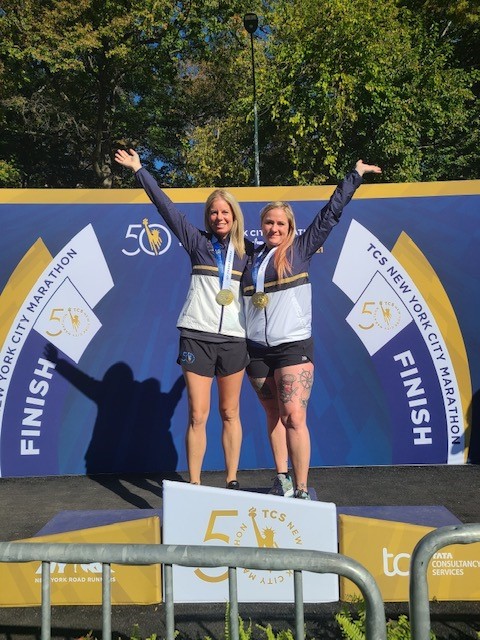 Skagit County was represented among the 33,000 runners competing in the 2021 TCS New York City Marathon, which took place on November 7. Mount Vernon resident Katie Roden crossed the finish line at 4 hrs 49 minutes while Shayla Driskell, a Sedro-Woolley resident, completed the run in 4 hrs 54 minutes. This year was the 50th celebratory running of the marathon, and Camp Korey was among 400+ official charity partners providing thousands of runners the opportunity to run in the world's most popular marathon.
"Running the NYC marathon was by far the best experience I've ever had at a running event" said Katie. "The size of the crowds almost the entire way screaming 'Go Katie! Go Shayla!' kept me moving and the miles flew by. To see so many strangers so happy and excited for you was amazing. I also wrote 'running for those who can't' on my arm, and that helped remind me why I was there. Crossing the finish line was very emotional to know I had accomplished a dream on my bucket list. I had doubts I would make it prior to race day, but on that day the crowd and our personal cheering squad erased all those doubts and I knew I would make it."
"Crossing the finish line was so exciting and emotional!" said Shayla. "I finally did it, and very thankful I was done running. It was hard out there, but the crowds keep you going. I wanted to walk a lot but the crowds would give you that push—'you can do this, finish strong, go Shayla, go Katie'—it was the best feeling ever."
Both runners were joined by family and friends. "We had seven family members and friends in New York as our cheering crowd, and the whole Camp Korey Team! Knowing I had so many people back home and with us really helped me make it to that finish line," said Shayla. Katie recalls, "I received a ton of text messages congratulating me right as I crossed the finish line. Then my husband called, which was nice since (they) couldn't be right at the finish line. We were so lucky to have so much support."
Shayla and Katie are good friends and running partners, and they trained for the marathon together. "We prepared by creating a training schedule together with long run days and a lot of cross training. We followed a New York Marathon Facebook page created by a man from Norway that has run the marathon 41 times" said Katie, "and it had everything you would ever need or want to know. Following the tips on that made me feel really prepared." Shayla noted that "training, diet, lots of exercise" was a big part of their preparation.
Camp Korey's 24 "Team Korey" runners traveled from WA, FL, NY, CA, OK, and MA, and each committed to a $3,500 fundraising goal. Also completing the race were two Duo Teams, which includes a runner pushing a custom jogger with a rider athlete. Peter Kline of "Marathons with Meaning" crossed the finish line with rider and former Camp Korey camper Cass Huff. Peter's nephew, Josh Kline, ran the race pushing former Camp Korey camper Austin Koszorus. In total, over $130,000 was raised through individual gifts and corporate sponsorships. Funds raised by Team Korey are used to provide free, year-round camp programs for children with serious illnesses and disabilities.
The NYRR Official Charity Partner Program offers an opportunity for nonprofit organizations to raise funds to support their missions and services. Participating charities can offer guaranteed entry to runners who fundraise on their behalf. Since its inception in 2006, the TCS New York City Marathon Official Charity Partner Program has raised more than $350 million for more than 1,000 worthy nonprofit organizations across the globe. Prior to the start of the official program, the New York City Marathon had served as an outlet for individual philanthropic runners since the 1980s.
# # #
About Camp Korey
Camp Korey is a 501(c)(3) not-for-profit organization that provides year-round programming and transformational experiences for children living with life-altering medical in a fun, safe camp environment with specialized medical support. Located in Mount Vernon, Washington, Camp Korey serves youth ages 7-18 and their family members across the Puget Sound and the U.S., always 100% free of charge. Camp Korey is a member of the Serious Fun Children's Network founded by Paul Newman.
About New York Road Runners (NYRR)
NYRR's mission is to help and inspire people through running. Since 1958, New York Road Runners has grown from a local running club to the world's premier community running organization. NYRR's commitment to New York City's five boroughs features races, virtual races, community events, free youth running initiatives and school programs, the NYRR RUNCENTER featuring the New Balance Run Hub, and training resources that provide hundreds of thousands of people each year with the motivation, know-how, and opportunity to Run for Life. NYRR's premier event, and the largest marathon in the world, is the TCS New York City Marathon. Held annually on the first Sunday in November, the race features a wide population of runners, from the world's top professional athletes to a vast range of competitive, recreational, and charity runners. To learn more, visit www.nyrr.org.