Skagit Valley College to host annual SVC Powwow Saturday, May 21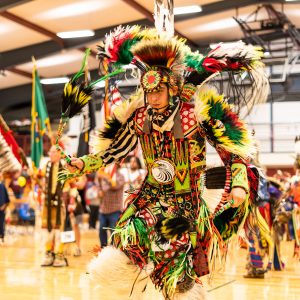 Skagit Valley College (SVC) will host the annual SVC Powwow on Saturday, May 21, in Tollefson Plaza on the Mount Vernon campus.  
The SVC Powwow will include drummers, dancers, and participants in regalia from across the U.S. and Canada. Admission and parking are free. Doors open to the public at noon. 
SVC has a long history of collaboration with its Native American neighbors, including hosting powwows on campus in previous years. This is a family-friendly, free event, and all are welcome. Come and join us for dancing, drums, food, raffle, and vendors selling Native arts and crafts. The event will also include a kids' corner organized by SVC's Early Childhood Education program. A special for Murdered and Missing Indigenous Women will be sponsored by the Upper Skagit tribe. 

Grand Entry will take place at 1 p.m. and 7 p.m. and will include grass dancers, fancy dancers, traditional dancers, and jingle dancers. There will be intertribal dances that are open to all. In addition, there will be "tiny tots" sessions for children birth to six years of age.  
The SVC Powwow will include time to honor veterans from all walks of life and recognize their service and all Veterans are welcome to take part in the Grand Entry.  

The SVC Powwow is about nurturing diversity and inclusion in our community, building relationships that honor the beauty of our differences, and celebrating all that brings us together for a common purpose.                                         
For more information, visit skagit.edu/community/powwow.  
### 
Skagit Valley College is making a difference throughout Skagit, Island, and San Juan counties by providing access to higher education for all who seek a better future. Part of what makes our college special is that we are deeply committed to equity in access, achievement, and community. Whether you are training for a new job, beginning your college experience, finishing the degree you started, adding English language skills, or pursuing a high school credential, Skagit Valley College welcomes you.