20th Annual Scholarship – Three Winners for Cascadia Eye
Skagit/Snohomish, Whatcom and Island Counties, WA--Cascadia Eye is pleased to announce the winners of our 20th annual $1,000 "Excellence in Education" scholarships, which are awarded to high school senior students in 1) Skagit/North Snohomish County, 2) Whatcom County, and 3) Coupeville/Oak Harbor/Island County. Over 60 students applied.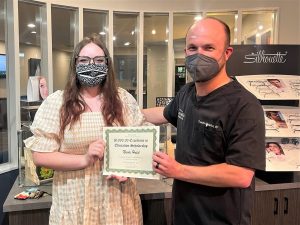 Cascadia Eye co-owner, Dr. Charles Maddux, awards Nicole Hulst's scholarship in Sedro-Woolley.
Winner: Skagit/Snohomish: Nicole Hulst
Nicole Hulst graduates from Sedro-Woolley High School and plans to attend Western Washington University in the fall and study towards a major in studio art. She is hard-working, dedicated to doing her best work in her academics, and focused on giving back to her community. Hulst lettered four years in volunteerism and was active in theater arts, the National Honor Society and many other extracurricular activities. Her future goal is to use her creativity to build theater props and set designs, harnessing her impressive creative skills to improve the world around her.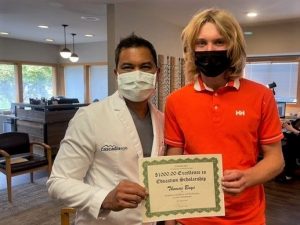 Cascadia Eye co-owner, Dr. C. Dan Siapco, awards Thomas Buys' certificate in Coupeville.
Winner:: Thomas Buy,  Coupeville/Oak Harbor/Island County, Home Connection
Thomas Buy graduates from Home Connection and plans to attend Western Governors University in the fall, studying towards a Bachelors in Math Education. In addition to his academic achievements, he has been active in many extracurriculars, including Tae Kwon Do, skippering for the Wildcat sailing team and participating on the Wildcat swim team. Buy's passion outside the water is math, and he aims to return to Whidbey Island after college to teach middle- and high-school algebra to local kids.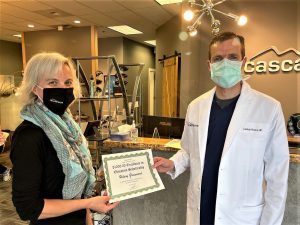 Cascadia Eye co-owner, Dr. Carlindo Pereira, awards Hilary's certificate to her mom, Denise, in Bellingham.
(Hilary will send her award pic from the Pacific Crest Trail once she receives it in her "trail mail.")
Winner:  Whatcom County: Hilary Greenwood, Bellingham High School
Hilary Greenwood graduates from Bellingham High School and plans to attend Western Washington University in the fall, studying towards a major in behavioral science with a minor in English. She is both a hard-working student and an avid outdoorsperson. Currently Greenwood is hiking the Pacific Coast Trail as a fundraiser for the Creutzfeldt-Jakob Disease Foundation while she finishes her last quarter of high school. While on the trail she is recording and writing "Womxn of the PCT," a project featuring women and non-binary hikers she meets on the trail (follow her Instagram at hilary_hikes_). Greenwood's passion to study neuroscience started when her father was diagnosed with a neurogenerative disease and passed away the day after her 13th birthday. She is driven to not only fight prion disease but to become a journalist and share her findings.
Cascadia Eye couldn't be prouder to support these three exceptional students. It is our pleasure to play a small part in their education, and we look forward to following along as they develop and continue to grow in their pursuits.
Cascadia Eye provides the highest quality of personal eye care, the best proven technology, and the most comprehensive coverage for your vision. With award-winning doctors, a fully-accredited eye surgery center, and five beautiful clinics, we provide complete eye care for every aspect of your vision health.
If you would like more information on our eye care professionals, or if you would like to schedule a consultation at our practice, please visit our website at www.cascadiaeye.com