Mavrik Marine Ferry Christened in San Francisco Bay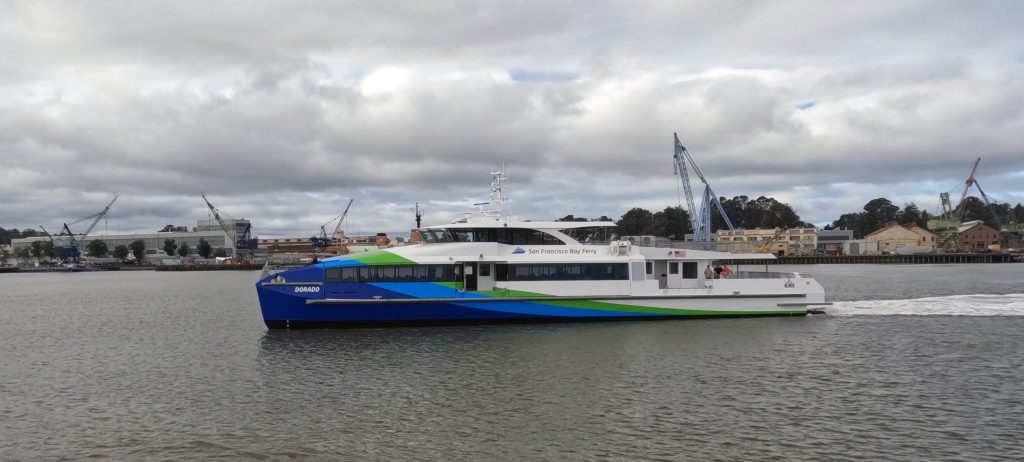 A new high-speed passenger ferry built by Mavrik Marine in La Conner has arrived in San Francisco.
The MV Dorado, which was built at and delivered from the La Conner Marina, was christened in a public ceremony at the Port of San Francisco on May 27.  It's the newest high-speed passenger ferry in the fleet of the San Francisco Bay Area Water Emergency Transportation Authority (WETA).
The MV Dorado has a 320-passenger capacity and a service speed of 36 knots, making it the fastest vessel in WETA's fleet.   MV Dorado is also the first boat built for WETA that can safely dock at any of the system's 12 ferry terminals.
The Mavrik Marine vessel will help serve one of the fastest growing transit operators in their region, with more than 3 million passengers in 2019.  The event on the San Francisco waterfront last month marked the commissioning of the MV Dorado as it enters the WETA fleet for service.
Mavrik Marine has been a Port of Skagit tenant at the La Conner Marina since 2012 and specializes in the construction of aluminum commercial boats, including ferries and fishing vessels.  It was exactly one year ago that Mavrik Marine and the Port held a ribbon-cutting event to mark the opening of Mavrik Marine's newly expanded facility at the La Conner Marina—a facility that was built large enough to house the construction of the 140-foot vessel.
"It's not often known that boats of this size and sophistication are being built here in our community and have been for nearly a decade.   In addition to the facilities, we have a good reservoir of skilled, maritime workers, " stated Port Commissioner Kevin Ware.  "The Port of Skagit is fortunate to have entrepreneurial thinkers like Zac Battle at Mavrik Marine on our site.  Contracts like the one between Mavrik and WETA bring in millions of dollars of new revenue to our community.  When something is built here and exported, it produces a net positive economic impact to our area which translates to good paying jobs and business growth."
According to WETA Public Information Manager Thomas Hall, the transit authority plans to rotate the MV Dorado among its routes to collect operational data and allow passengers across the ferry system to experience the boat.  Mavrik Marine is under contract for a total of four ferries with WETA, with construction underway for the second vessel in the Dorado class, the MV Delphinus.