Bloodworks Northwest Upcoming Blood Drives and Forecast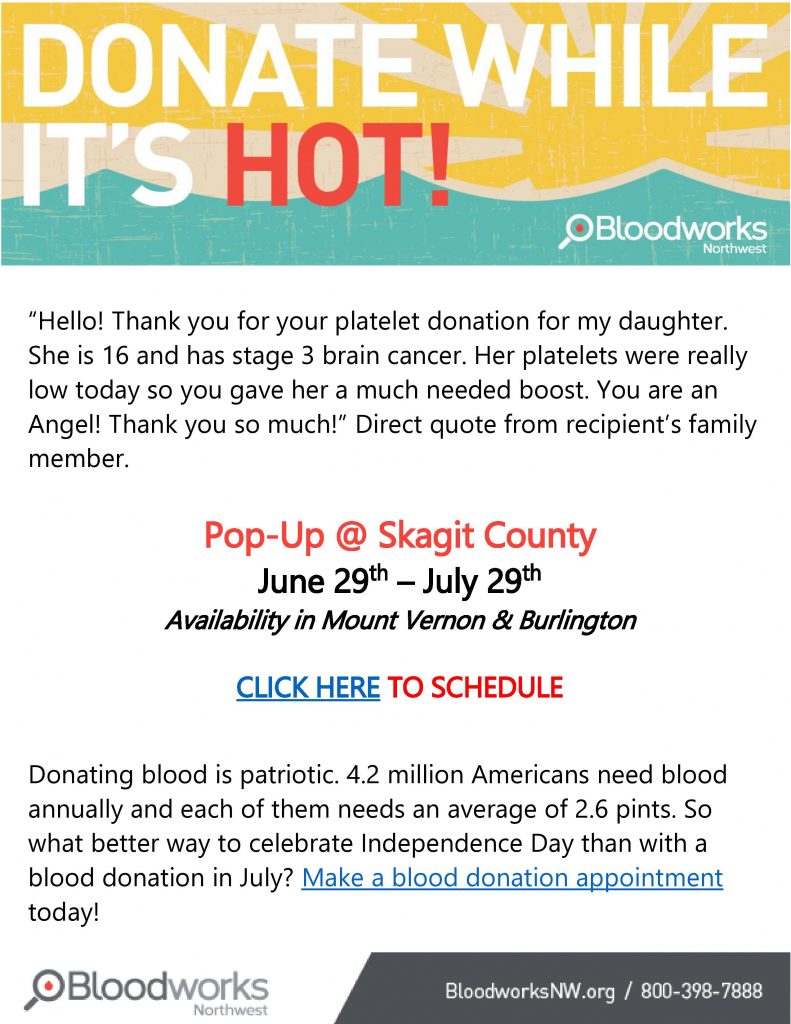 Blood Supply Forecast Report – June 13, 2022
World Blood Donor Day takes place on June 14 each year. The day was created to raise global awareness of the crucial need for donated blood and highlight the critical contributions of volunteer blood donors. To ensure everyone in the Pacific Northwest has access to lifesaving blood transfusions, it's vital more people sign up to give blood in June, especially Type O and Platelet donors. Very low appointment sign-ups for the end of June and week of Fourth of July raise significant concern we will be unable to meet local patient needs for blood.
Over 200 appointments are available in the next 4 weeks in Skagit County.  People are urged to make appointments as soon as possible. Appointments to donate blood can be booked at bloodworksnw.org or 800-398-7888.
About Donating Blood:
Most people in good health, at least 18 years old, and who weigh at least 110 pounds can donate whole blood every 56 days. 16 or 17 year olds donating in Washington must have a signed Bloodworks Northwest permission form. Check out our detailed eligibility Q&A or call us at 800-398-7888.
It takes about an hour to give blood from check-in to post-donation cookie. Information about who can donate and where, is available at www.bloodworksnw.org.
Appointments and masks are required.
About The Bloodworks Northwest Forecast
Bloodworks Northwest is the sole provider of blood to more than 95% of hospitals in the Pacific Northwest. It takes 1,000 donors a day to maintain a safe and reliable blood supply for our community. As we continue to combat a nationwide blood shortage, the forecast communicates the status of the blood supply and helps donors strategically schedule appointments for higher-need weeks. The forecast is based on supply of all blood types and the number of appointments donors need to book in the coming weeks.