A Rosy Day Out at Christianson's Nursery
After the extreme weather we experienced this past winter, we are looking forward to June when we have our  19th Annual Rose Festival under the big tent centered in the beautiful Schoolhouse Rose Garden. This annual festival is beloved by the gardening community, and we always enjoy rose-related conversations throughout the day. This year, we will have wonderful discussions to attend and hope to see you in the gardens.
"A Rosy Day Out" includes a community rose display and competition in the Schoolhouse, an ice cream social in between morning and afternoon speakers, and sitting together with like-minded gardeners in the Schoolhouse  Rose Garden while listening to keynote speakers. Last year, with the hot weather, the rose garden looked incredible with all the garden roses showing off their colors and enchanting us with their fragrances.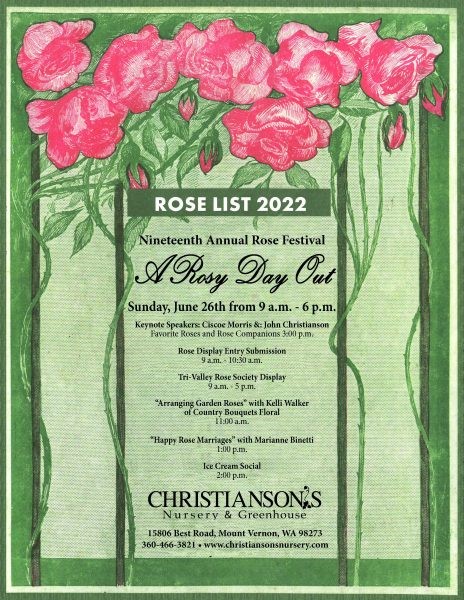 A Rosy Day Out Sunday, June 26th, 9 am to 6 pm, hosted by Christianson's Nursery, 15806 Best Road, Mount Vernon. This year, "A Rosy Day Out" will celebrate a fusion of outdoor presentations, a community rose display and competition in the Schoolhouse (judged by the Tri-Valley Rose Society). Our presentations under the Big Tent occur at 10:00 a.m. featuring gardening columnist Marianne Binetti discussing "Happy Rose Marriages", and at 1 p.m. Kelli Walker of Country Bouquets Floral demonstrating "Arranging Garden Roses", and keynote speakers Ciscoe and John at 3:00 p.m. Prizes and plants to be given away throughout the day. For more information, visit 'A Rosy Day Out' page HERE. and follow us on Instagram and Facebook @chrisitansonsnursery.