Mount Vernon School Board Seeks District #2 Director to Replace Dr. Rob Coffey
The search for a replacement director for School Board District #2 is underway. Director District #2 roughly includes the northeast quadrant of the City. The northern edge follows the border of the school district from Riverside Drive to the east edge of the district. The west boundary runs from approximately Hoag Rd., south on Riverside Dr. to Fir Street.  The south boundary is on Fir Street from Riverside Drive to LaVenture Rd., then north to College Way and then east to the School District boundary.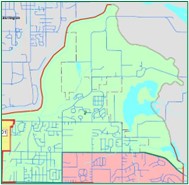 The application, a complete written boundary description, and additional information are available on the district's website at www.mountvernonschools.org or at the school district's administrative office at 124 E. Lawrence St., Mount Vernon, WA.  The application process is open through July 22, 2022 at 4:00 PM.
The vacancy is available due to the recent resignation of School Board Vice-President Dr. Rob Coffey. Dr. Coffey shared that he is resigning short of the 2023 term expiration, following nearly 16 years of committed service to the district. Superintendent Vivanco said that Director Coffey has advocated on behalf of the students, staff, families, and constituents of the Mount Vernon School District, adding that his passion for education, mindful recognition and understanding of student needs, and protection of taxpayer resources has made him a valued leader for the Mount Vernon School District. He said that his direct approach to facilitating winning outcomes would be missed. Dr. Coffey has made a significant and lasting impact to the education and success of Mount Vernon students and we wish him well.