Mount Vernon Hires New Development Services Director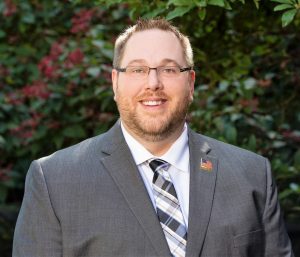 The City of Mount Vernon announced the arrival of new Development Services Director, Darren Groth.
Groth (pronounced "growth") comes to Mount Vernon with over two decades of experience in municipal planning and public administration; and is tasked with overseeing the City's Building Department, Planning Department, Engineering Department, and GIS Services.
Darren's professional background varies widely across disciplines and roles in various organizations, but the majority of those roles have been focused on helping the public, and providing quality customer service.
"I think my ability to understand, from experience, all levels of an organization has prepared me to oversee a development services department comprised of both field and office employees," Groth said, adding that the City's department also includes tenured professionals, employees just starting their public service careers; as well as experts on a variety of specialized subjects.
Groth's first stated goal for the department is to make enhancements in the area of customer experience when interacting with the development services department.
"We're here for the community and we need to work with our customers to achieve the established goals and vision," he said.
Specifically, Groth said one goal includes his plans to create a mechanism that allows for direct submittals of applications and revised documents without the need to schedule an appointment.
"Personal interaction remains a key part of communication, and getting things done the right way," he added. "I believe we can more effectively arrive at a mutually agreeable, and beneficial, outcome when we're working together in-person with our customers."
Originally attracted to the history and vibrancy of downtown Mount Vernon during a recent (Tulip Festival) street fair visit, Groth said that he then became enamored with the City's Downtown Master Plan and South Kincaid Subarea Plan.
"I love the charm and beauty of downtown, and these planning documents that honor the past while creating opportunities for tomorrow."
Mayor Boudreau said she is grateful to have Groth join the City team.
"We are very fortunate to find someone of Darren's professional capacity to lead our Development Services team," Boudreau said. "Darren has spent the past couple of months familiarizing himself with the department, and he has recently begun to reach out to our community."
Darren hopes to meet with more of the Skagit community and is inviting those who may be interested in a conversation to reach out and contact his office for a meeting.