Skagit Runners Take on TCS NYC Marathon and Raise more than $100,000 for Camp Korey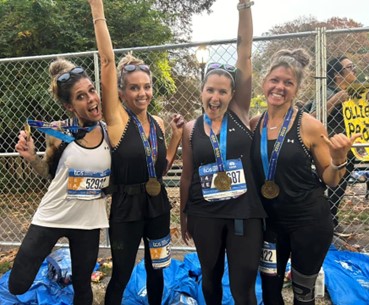 Four Skagit Valley locals were among the nearly 48,000 runners competing in the 26.2-mile TCS New York City Marathon on November 6, 2022.
Amanda Bedker (Mount Vernon), Charlean Burks (La Conner), Holly Hendren (Bow) and Cheryl Otis (Sedro Woolley) crossed the finish line together at 4 hours and 58 minutes. This year was the 51st celebratory running of the marathon, and Camp Korey was among 400+ official charity partners providing thousands of runners the opportunity to run in the world's most popular marathon.
"2022 New York City Marathon was absolutely the most amazing experience…Hands down the best run I have ever done! I am very lucky to have run it with some amazing ladies by my side. I'm so thankful to everyone who helped me raise funds for Camp Korey." – Cheryl Otis
Also completing the race were Phil and Kate Shigo, a father and daughter duo from Seattle, WA. "I first ran the New York Marathon in 2015 for Team Korey. At that time, Kate was only 12 and a spectator at the event. Seven years later, a runner herself, inspired by Camp Korey and the amazing event that is the NYC Marathon, Kate and I ran the race together for Team Korey. By challenging ourselves physically, the $7,800 we raised gives Camp Korey the financial ability to provide transformative camp experiences for children living with serious medical conditions, always 100% free of charge to families." shared Shigo.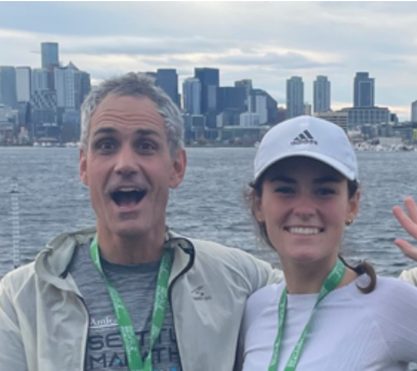 Camp Korey's "Team Korey" runners traveled from WA, NY, CA, and MA, and each committed to a $3,500 fundraising goal, which some surpassed including Wendy Hohmann who raised more than $20,000. In total, more than $100,000 was raised through individual gifts and corporate sponsorships. Funds raised by Team Korey are used to provide free, year-round camp programs for children with serious illnesses and life altering conditions.
For many kids, camp is a home away from home. It's a safe place to try new things, feel seen, and belong. Event sponsorship by Hatcheri Foods, Niagara Bottling, and The Krusteaz Company allowed all donations raise to directly benefit camper programming.
The NYRR Official Charity Partner Program offers an opportunity for nonprofit organizations to raise funds to support their missions and services. Participating charities can offer guaranteed entry to runners who fundraise on their behalf. Since its inception in 2006, the TCS New York City Marathon Official Charity Partner Program has raised more than $350 million for more than 1,000 worthy nonprofit organizations across the globe. Prior to the start of the official program, the New York City Marathon had served as an outlet for individual philanthropic runners since the 1980s.
###
Located in Mount Vernon, WA, Camp Korey is a 501 c 3 nonprofit dedicated to creating empowering, adaptive year-round programs for children and their families dealing with life-altering medical conditions, completely free of charge. In 2012 Camp Korey became an official member of SeriousFun Children's Network founded by the late actor and philanthropist Paul Newman. Camp serves thousands of children and families each year with weeklong summer camp sessions, year-round Camp to You, family weekends, young adult retreats, and more. Camp Korey, like all SeriousFun Camps, remains 100% free to all campers and families, relying on the generosity of the community for support. Camp Korey has continued to grow to support more than 90 major medical condition groups, and more than 40,000 kids and families have been served since camp was founded.