Barron Heating AC Electrical & Plumbing names Brad Barron CEO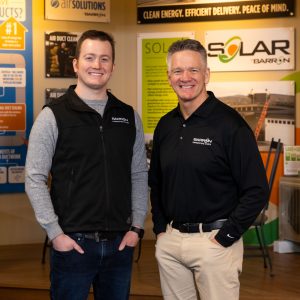 Brad Barron, the family's fourth generation at Barron Heating AC Electrical & Plumbing, will become its CEO on Jan. 1.
John Barron, CEO and principal owner since 1998, will continue with the company as executive chair and coach. He's led steady growth of the company, which has showrooms in Burlington and Ferndale. Barron Heating AC Electrical & Plumbing is celebrating its 50th anniversary with projected 2022 revenues of $40 million and more than 200 employees.
"Brad has an engineering mind combined with a deeply people-centric view of the world," John Barron said of his son, "and I'm excited that he can bring an outside perspective to an already intimate understanding of our business. Many people may not know that before Brad joined Barron six years ago he spent almost a decade working as an engineer, both in the field and leading teams. Mixing this external experience with a hands-on knowledge having grown up around Barron gives him a unique ability to see the big picture."
Brad Barron took his engineering background to the family company in 2017, starting as the business development manager. He became director of operations in 2018 and chief operating officer in 2020. The new CEO is credited by his father with launching Barron Technician School and expanding the company's electrical and plumbing capabilities.
"The reason I went to engineering school at the University of Washington is I like to solve problems and make things more efficient," Brad Barron said. "Now our challenges are finding and retaining top-notch team members in a slowing economy, but our company can thrive in those conditions."
The changes will enable John Barron to focus on what he loves the most – coaching other team members and helping them reach their goals.
"I've never in the history of our company enjoyed coming to work more," said John Barron, 62.
John Barron's parents, Dan and Vivian Barron, founded the company in 1972. Barron Heating, as it was known then, started out serving the residential new construction needs of homeowners. Brad Barron said its focus on people has never wavered.
"When our co-workers, customers and community are taken care of, our business will prosper," Brad Barron said.
Committed to improving lives through its licensed technicians, electricians, plumbers and Certified Home Performance Experts, Barron Heating AC Electrical & Plumbing provides a wide range of heating, cooling, solar, electrical, plumbing, and indoor air quality products and services. It also offers a large selection of stoves and fireplaces in its Firelight by Barron showrooms.
Barron Heating AC Electrical & Plumbing has become one of Northwest Washington's largest and most respected home performance experts with showroom locations in Burlington and Ferndale. Service providers are trained at the Barron Technician School in Ferndale. Approximately 200 local employees serve customers along the I-5 corridor from Blaine to Marysville, Oak Harbor to Concrete, as well as the San Juan Islands.
The Burlington showroom is at 560 S. Burlington Blvd., just north of Rio Vista Avenue. For information, call (360) 424-4962 or visit www.barronheating.com.