Boys & Girls Clubs of Skagit County Annual Breakfast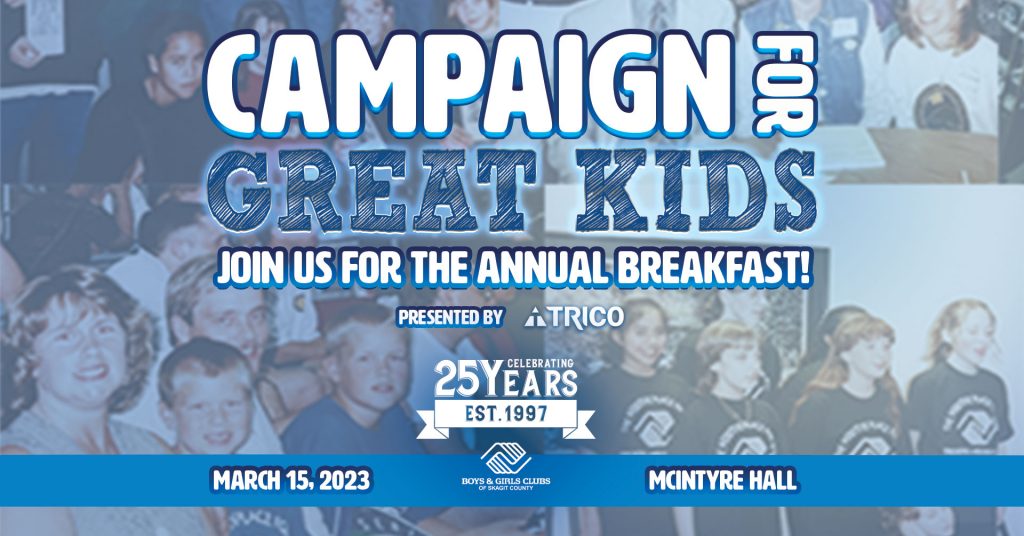 This March, The Boys & Girls Clubs of Skagit County is finally bringing their Annual Breakfast back in person. They have hosted their Annual Breakfast online over the past couple of years, due to the pandemic and are so excited to bring people together in person once again.
The Annual Breakfast presented by TRICO is their signature event to start each year and look forward to the exciting things that are coming up. Attendance is free and guests will enjoy a great breakfast, hear from some of the Club Members, Youth of the Year, and get an update on the Clubs. This last year started their 25th year of serving Skagit youth and they are so excited to celebrate with the community. The community is invited to join the Clubs at McIntyre Hall for the first time since 2019.
What: Boys & Girls Clubs of Skagit County, 2023 Annual Breakfast
When: Wednesday, March 15th, 2023 | Doors open at 7 am | Breakfast Begins at 7:30 am
Where: McIntyre Hall
Attendance is free but you can also show support by sponsoring the event. Contact Shelby Munson via email at shelby.munson@skagitclubs.org, or call (360) 610-7929 to get more information or visit the Boys & Girls Clubs of Skagit County's website at skagitclubs.org to RSVP.