Covid-19 Businesses Resources & Recovery
The Mount Vernon Chamber of Commerce is committed to providing our members and the community at large with the best information and resources at hand regarding the COVID-19 outbreak and getting back to work in a safe manner.
For our members, if you have questions, concerns or information to share, please reach out. While "business as usual" isn't possible right now, we are adapting and continuing to serve you.
Recursos e información en Español
Back-to-Work Guidance for Businesses
Association of Washington Business Toolkit for Employers
Gov. Inslee's Safe Start policy plan
Safe Start business activity guidelines
  Includes industry-specific guidelines as they roll out
Port of Skagit Return-to-Work Safety Protocols
Building Industry Association of Washington (BIAW) guidance
   Phase 2 Construction COVID-19 Safety Requirements FINAL
Washington Hospitality Association: Washington state guide to reopening your restaurant
Washington Hospitality Association: Ready to Serve printable guidelines to post at your restaurant
Washington Hospitality Association: Washington Restaurant Reopening Guideline Videos
Washington Retail Assoc. Covid Safety Operational Plan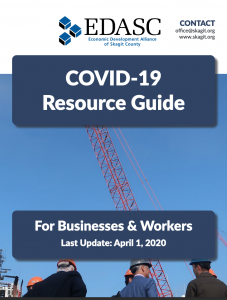 Download EDASC's extensive guide here.
Local Grant Resources
Mount Vernon Community Development Block Grant
State Resources for Businesses and Employers:
Washington State Coronavirus Response
Resource list for impacted Washington businesses and workers
Employment Security Department Washington State: For workers and businesses affected by COVID-19
Washington State Department of Labor & Industries: Resources on Paid Sick Leave, Worker's Compensation,  Workplace Safety and Health
Washington State Department of Revenue: Business Relief During COVID-19 Pandemic
Emergency Management Division Washington: Business Preparedness
Resources for Businesses and Employers:
Coronavirus (COVID-19): Small Business Guidance and Resources (SBA)
SBA Regional Participating Lenders
CDC Resources and Recommendations
CDC Interim Guidance
IRS Updates:
Coronavirus Tax Relief

Health Updates:
Skagit County COVID-19 Updates
Washington State COVID-19 Updates
CDC information and resources
Washington State Department of Health: Public Health Connection
Community Resources:
Community Action of Skagit County COVID-19 updates
Resources for Workers Impacted by Layoffs and Lost Wages
Tips From Counselors on How to Manage Financial Stress During a Crisis
Resources for Laid-Off Workers
Coronavirus Unemployment in Each US State and Local Community Resources
How to Refinance your Mortgage
How to Pay for Coronavirus Healthcare
Other Resources:
CDC Print Resources: Free to use hand outs and posters
Looking for restaurants offering take-out and delivery during the stay-at-home order? Check out this interactive map of Mount Vernon restaurants.