The Mount Vernon Chamber of Commerce is committed to providing our members and the community at large with the best information and resources at hand regarding the COVID-19 outbreak. Our office is closed to the public until further notice, but we will be continuing to support businesses as we work remotely, via phone and email. Check our website regularly for updates as well as our Facebook page.
For our members, if you have questions, concerns or information to share, please reach out. While "business as usual" isn't possible right now, we are adapting and continuing to serve you.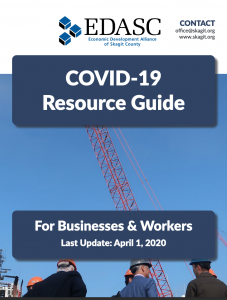 Download EDASC's extensive guide here.
State Resources for Businesses and Employers:
Washington State Coronavirus Response
Resource list for impacted Washington businesses and workers
Employment Security Department Washington State: For workers and businesses affected by COVID-19
Washington State Department of Labor & Industries: Resources on Paid Sick Leave, Worker's Compensation,  Workplace Safety and Health
Washington State Department of Revenue: Business Relief During COVID-19 Pandemic
Emergency Management Division Washington: Business Preparedness
Resources for Businesses and Employers:
Coronavirus (COVID-19): Small Business Guidance and Resources (SBA)
SBA Regional Participating Lenders
CDC Resources and Recommendations
CDC Interim Guidance
IRS Updates:
Coronavirus Tax Relief

Health Updates:
Skagit County COVID-19 Updates
Washington State COVID-19 Updates
CDC information and resources
Washington State Department of Health: Public Health Connection
Community Resources:
Community Action of Skagit County COVID-19 updates

Other Resources:
CDC Print Resources: Free to use hand outs and posters